In an effort to stabilise equity markets and keep afloat the UK economy amidst the COVID-19 crisis, the Bank of England and the British government have taken 'unprecedented measures'. The BofE decided to cut its interest rates to 0.1% last Thursday and announced £200Bn of asset purchases. One day later, the UK government rolled out economic measures of nearly £7B which resulted in the pound recovering from its lowest level since March 1985 against the US dollar. Consequently, and combined with short-term panic buying, UK grain prices have been extremely volatile with spot LIFFE feed wheat jumping more than 10% [its best performance in at least 15 years] or nearly £16/T since the beginning of the month to reach an 11-month high.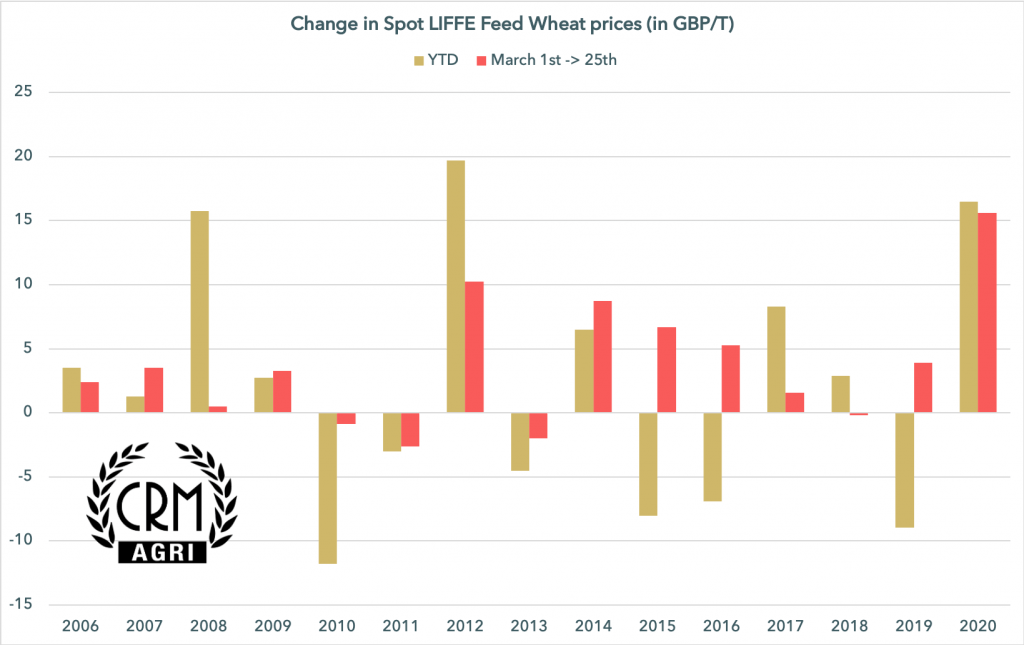 New crop prices followed exactly the same trend with Nov-20 LIFFE feed wheat scoring a fresh contract high of £175.70/T on Monday ie its highest level for this time of the season since 2013 when the Nov futures contract was trading about £16/T higher.
Spring plantings are finally making rapid progress with dry conditions set to prevail at least until early April but farmers are now concerned about a shift from an extreme (too wet) to another (too dry).