Graintab delivers insights and forecasts from millions of data points allowing businesses to make clearer, better informed decisions and manage market volatility more effectively. Our team of experts help clients implement and manage robust, proven strategies and processes.
Rainfall for the US cools markets
Across grain and oilseed markets the week has started in the red following heavy rainfall and thunderstorms in the US. Looking ahead and 14-day forecasts have also shifted toward greater volumes of very much needed rainfall in the US key corn, soybean and spring wheat states.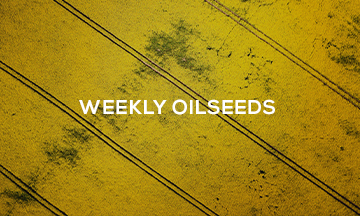 US crop development pressures oilseeds
Soybean markets remain elevated as markets are unable to ignore how...
2.7Bn
Tonnes of coarse grain produced globally (2019/20)
443Mn
Tonnes of coarse grains traded globally (2019/20)
810Mn
Tonnes of global coarse grain stocks (2019/20)
DATA
Agriculture a highly fragmented industry, the variables driving commodity prices are numerous and often complex. We use rigorous processes to collect and disseminate data from millions of data points each year, using this data to power and simplify our insights and forecasts.
Insights
Once collected, we combine and interpret data using forecasting models and a team of experts to identify trends and create valuable insights. This enables our clients to understand and simplify often complex and geographically vast agricultural commodity markets.
DECISIONS
Our data and insights allows you to make faster and more accurate decisions with full justification and support from a team of experienced market professionals, who are always available to answer specific queries and provide tailored business solutions and advice.