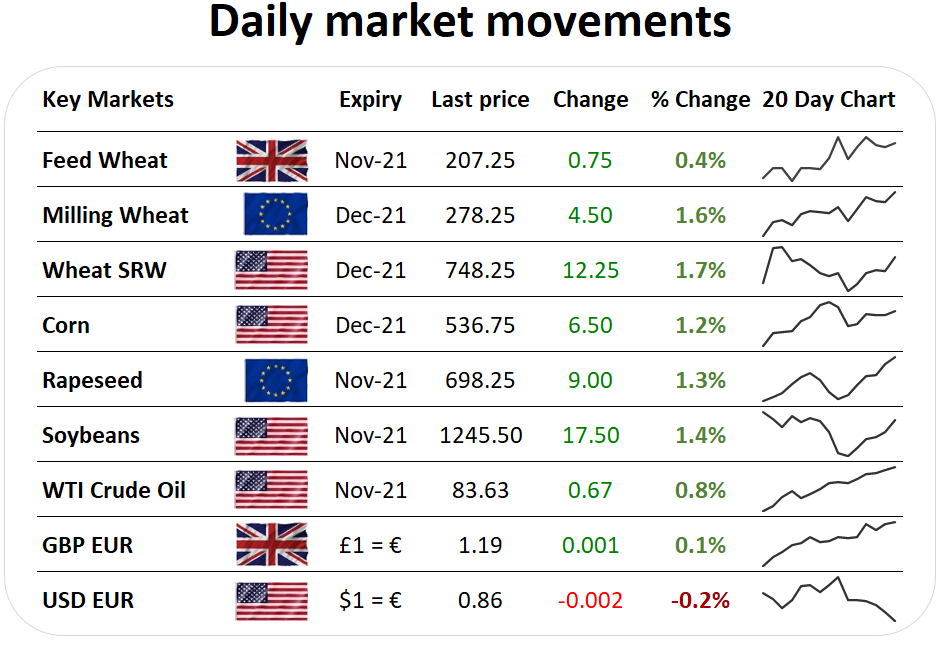 Chicago soy oil continued to push higher today. With Chicago December Chicago Soy Oil contract at c$64.44/lb, Chicago soy oil has pushed back higher to levels not recorded since the end of July.

With the continued climb in vegetable oil markets, oilseeds have also gained support, with Chicago soybeans pushing back up toward c$1250/bsh. The global vegetable oil market is continuing to provide support for Paris rapeseed, with November Rapeseed pushing up to near €700/t, while the May contract has now undone the pre-WASDE drop.

While vegetable oil markets have continued to push higher, in Brazil, AgRural are estimating the soybean crop to have reached 22% planted, making good progress.

In Russia and winter sowing has reached 16.5Mha, still down year on year, but to a lesser extent than previously recorded.

In the US, and ethanol production has continued to provide confidence for corn demand, with ethanol production reaching an estimated 1096K barrels per day, and back up near long-term record production levels.

Watch for tomorrow's USDA Export Sales as there has been a noticeable lack of export sales announcements so far this week.