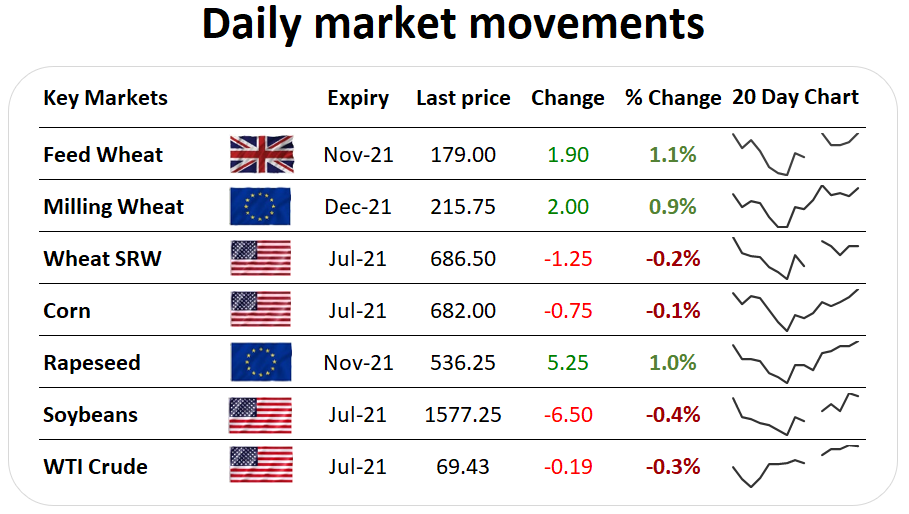 World agricultural markets have started the week in the green as forecasts for the US remain dry across parts of the US corn belt and key spring wheat-producing regions.

While continued dry weather across the spring wheat region threatens supply, speculative investors reduced the number of long contracts held in Chicago wheat. Wheat is caught between increasing confidence in Europe and the Back Sea, while conditions in the US and Canada become increasingly concerning.

Although reducing the number of bullish bets in wheat, speculative investors increased the number of long positions held in Chicago corn. Hot and dry weather this week is reigniting supply concerns for 2021. Thursday will see the release of the June USDA WASDE and the end of the month will have the updated USDA planting estimates, both reports will be key for market confidence in supply during 2021/22.

Managed money reduced the number of contracts held in Chicago soybeans last week to the lowest number held since last August.

What does this all mean?

Over the coming months, weather in the US is going to be the key driver of global markets, tight stocks and large speculative involvement is going to maintain market volatility. Speculative investor's overall positions are a good indicator of market sentiment, but in a weather market, outlooks can change very quickly.