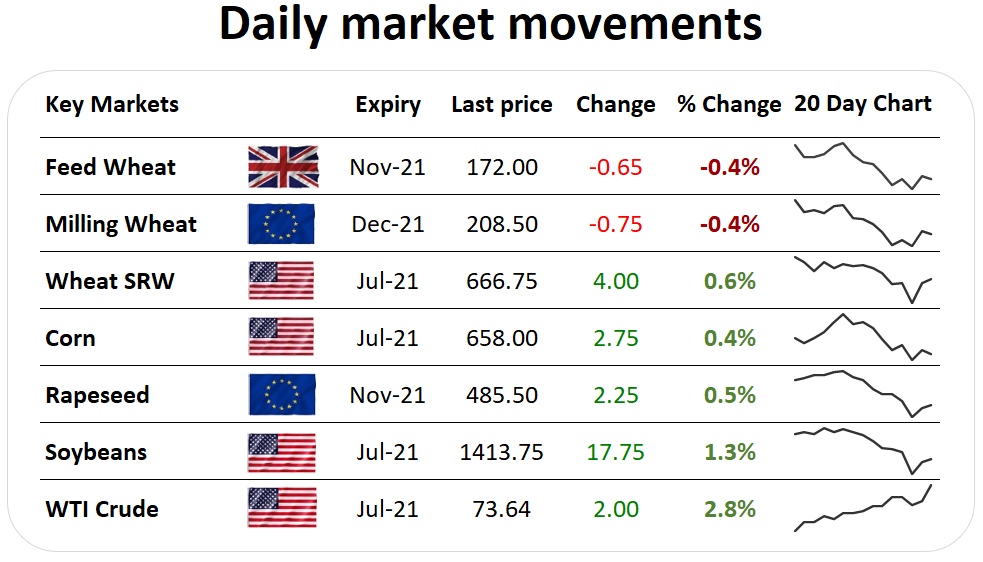 Starting this week and the focus is again on the weather for the US and if rainfall forecasts are going to be sufficient to address the US soil moisture deficit. Rainfall over the weekend will have helped, but has been far from uniform.
 
Due to a new national holiday in the US last Friday, CTFC managed money position data is yet to be released, but it is likely to highlight a reduction in long positions held in both corn and soybeans following last week's market pressure.

Other key data that will be released later today will be the USDA's crop progress report, given that the crop data is for last week, expect further reductions to overall crop condition scores for wheat, corn and soybeans. However, this report is overshadowed by rainfall forecasts.
 
USDA export sales have been a major talking point for soybeans over the weekend and today. Following last week's fall in new crop Chicago soybeans, there have been significant export sales. 336Kt have been sold to China for next season, alongside a further 120Kt to an unconfirmed destination, with reports of further commitments. However, this is out of a provisional new crop estimate of 56.5Mt.

What does this mean?
 
This week and next are likely to be volatile, pre-harvest and with so much riding on crop conditions and yields, each forecast has the ability to significantly alter supply and demand outlooks for next season.