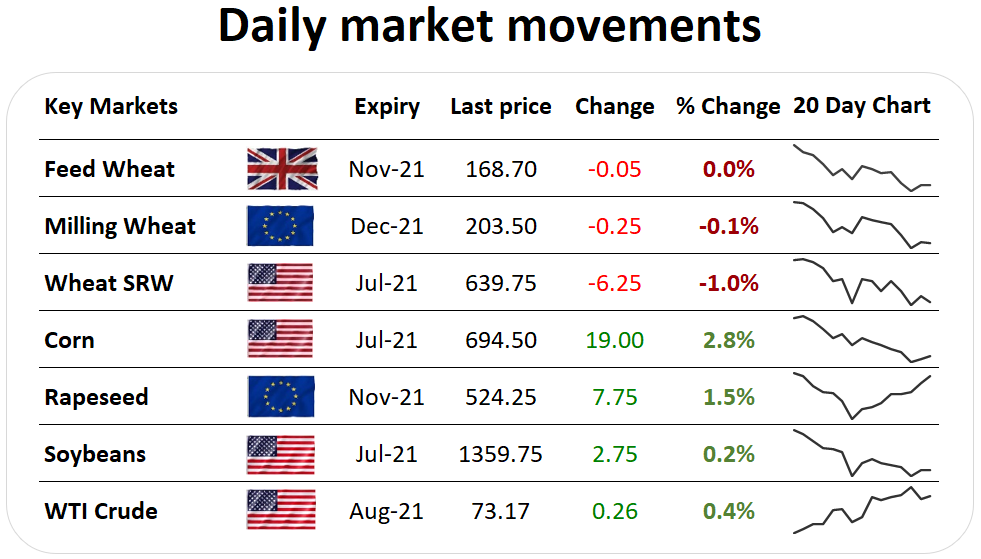 Global grain and oilseed markets have undergone a mixed day prior to the USDA's acreage and stocks report, to be released tomorrow.

Headline figures to digest have been the crop progress report for US crop conditions.
Corn lost one percentage point, down to 64% good and excellent. While corn lost a further percentage point and continued to deteriorate, the rate of fall has now slowed. The overall condition of US soybeans held steady at 60% good and excellent. Following rainfall, over last week and what have been better conditions, next week is likely to show increased crop condition scores.
 
One-third of the US winter wheat crop is now harvested, while 48% of spring wheat is now headed. However, spring wheat crop conditions fell again, now rated at just 20% good and excellent, down a further 7 percentage points week on week.
 
What does this mean?

Ahead of tomorrow's main USDA acreage report, crop condition scores have been overshadowed. While some were expecting a recovery in condition, it was too soon for rainfall to have turned US crop prospects round quickly enough to be reflected in the most recent crop progress report.