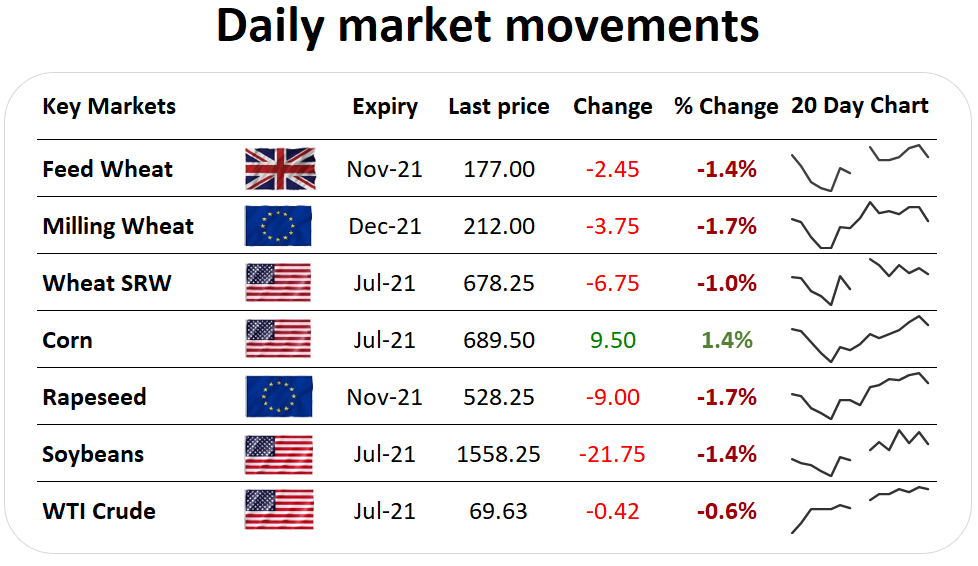 Ahead of the June USDA WASDE, and with patchy rains in North Dakota, markets have been slightly risk-off today, with wheat, corn, soybean, and oilseed rape markets having been under pressure during the day.
Ahead of the June USDA WASDE, there are a number of watch factors to pay attention to in tomorrow's report.

Wheat

Looking to new crop wheat markets, and there will be a focus on US and Canadian wheat production estimates, with potential reductions to yields due to poor US crop ratings, and what has been a prolonged period of dryness in Canada.

With improved conditions, European production estimates are increasingly likely to be revised slightly higher.

Corn

Attention will be played to the WASDE estimates for Brazilian corn, after a very cautious and minimal reduction in May. Further reductions are expected given the continued dry outlook.

In the US, and both old crop stocks and new crop production will be closely watched. With the US very tight for corn, the US can't afford to have a new crop reduction in supply.

Soybeans

At this stage, it is too early to give any estimates for 2021/22 southern hemisphere supply much credence. All the attention will be on the US. With the US market tight for supply, new crop supply is critical, watch for potential changes to 2021/22 end season stock estimates.  

What does this mean?

The June WASDE will be the second USDA new crop official outlook. Tight supplies have been the defining feature of the current 2020/21 season, and there is little room for error in next season's supply.