As the 2022/23 harvest is nearing completion in the Northern Hemisphere and rapidly approaching for Australia, updated official area and production estimates are providing greater clarity and confidence in supply for 2022/23.
Globally, year-on-year production estimates are encouraging with an anticipated easing in global supply tightness. Ahead of the next USDA September WASDE, we take a look at major national official area and production estimates.
UK
Defra released the initial June Survey results for English grain and oilseed areas.
The release of the English arable cropping area data for 2022, highlighted an increase in wheat and oilseed rape area. Read the full report here. Overall, the June survey met expectations and we broadly agree with the USDA's official estimate for UK wheat production at 14.6Mt.
The English wheat area in 2022 is 1.67 million hectares. This is a 0.8% increase compared with 2021.
The barley area decreased by 4.2% between 2021 and 2022 to 782k hectares. Winter barley rose by 7.7% to 372k hectares, whilst spring barley decreased by 13% to 410k hectares. The oats area in England decreased by 12% to 140k hectares in 2022. Winter sown oilseed rape (98% of the total oilseed area) increased by 21% to 317k hectares.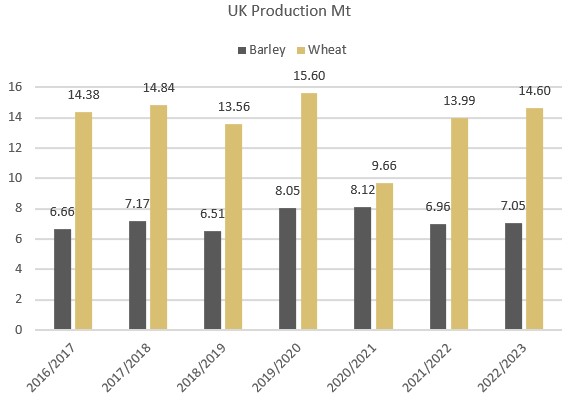 EU
In the latest EU MARS Report and the subsequent EU Crop Market Observatory production estimates, greater confidence in EU wheat and rapeseed production largely offset the deterioration in spring crops.
Despite less than perfect growing conditions for EU wheat, production is estimated at 126.959Mt, down from 131.168Mt last season, but still above the 5-year average and higher than 2020's 118.907Mt crop. Rapeseed production, estimated at 18.834Mt is expected to be the largest crop since 2017.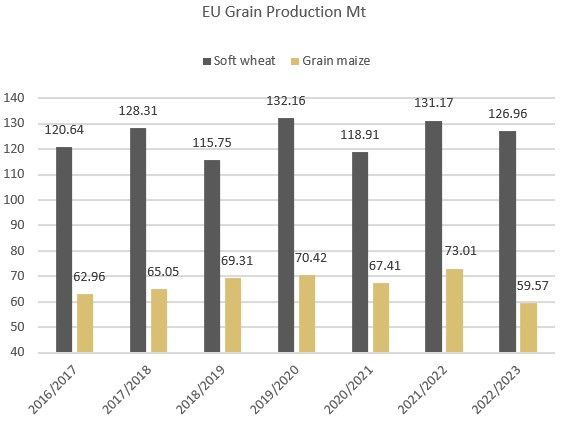 While winter crop production estimates have been broadly encouraging overall, the spring drought took its toll. Grain maize production estimates of 59.567Mt has declined to potentially the smallest crop since 2015, significantly lower than the 73.011Mt in 2021 and 67.407Mt in 2020. Sunflower production also fell year on year to 9.991Mt, down from 10.335Mt in 2021.
US
The next USDA production outlook will be updated next week with the September WASDE, but August has injected a degree of uncertainty surrounding corn yields.
The ProFarmer US tour yield estimates for corn differed significantly from the USDA's provisional yield estimates as crop variation is large this year following patchy rain and extreme heat.
Current USDA corn production estimates sitting at 364.727Mt are already estimated to be down from last season's 383.943Mt, although still higher than 2020's crop of 358.447Mt.
While corn yield estimates have been varied, for soybeans ProFarmer yield estimates roughly matched USDA's production forecasts. The USDA's current production estimate at 123.302Mt is up from last season's 120.707Mt and again higher than in 2020/21 at 114.749Mt.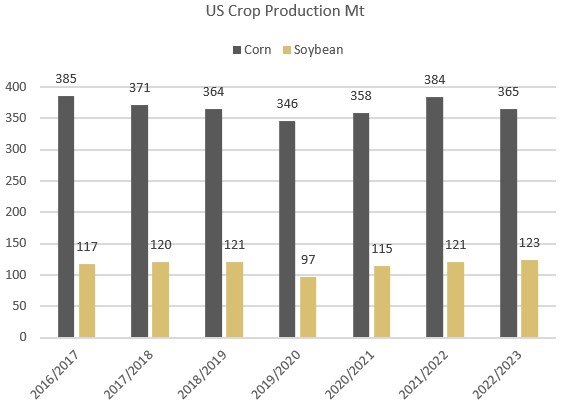 Canada
In Statistics Canada's latest update at the end of August, production estimates increased for the majority of grains and oilseeds.
Canola production was estimated at 19.498Mt, up from the drought-devastated crop of 13.757Mt in 2021, and a rebound to 2020's production level of 19.484Mt.
Like with canola, wheat production estimates have also rebounded from last year's drought. Wheat production is estimated at 34.571Mt, up from 22.296Mt last season and back to levels close to 35.437Mt in 2020.
Australia
Winter crop prospects in Australia at the beginning of spring remain well above average following generally favourable growing conditions over winter.
Winter crop production is forecast to reach 55.5Mt, the fourth highest on record. Production is forecast to be well above 10-year averages in all states, including the second highest on record in Western Australia and the fourth highest in New South Wales.
Wheat production is forecast to be the second highest on record at 32.2Mt, which is an 11% decrease from the record level reached last year. Barley production is forecast to reach 12.3Mt, the fourth largest on record. Canola production is forecast to reach the second highest on record at 6.6Mt, a 2% decrease from the record reached last year.