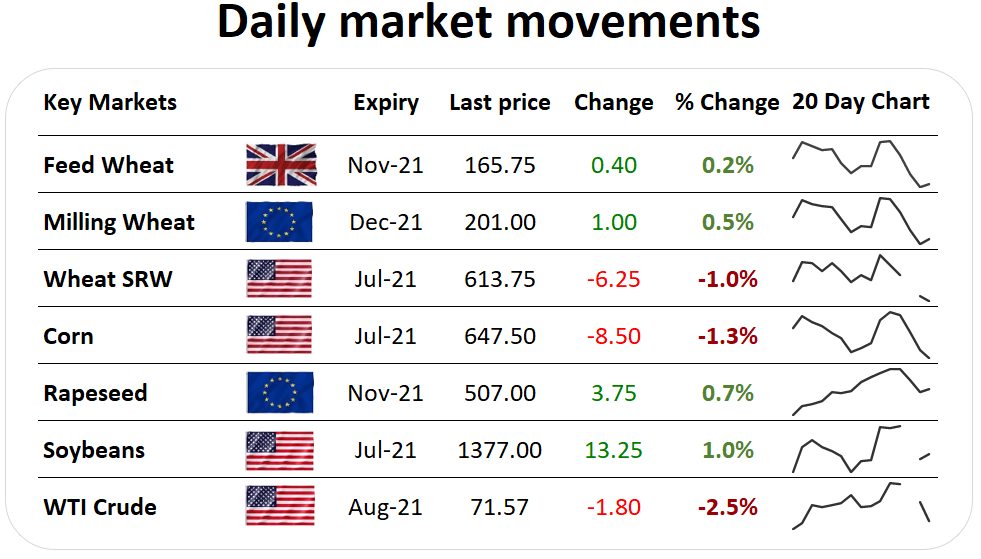 Yesterday evening had the USDA release of the much-anticipated USDA crop progress report, a slightly more bullish report than some expected, and following yesterday's sell-off Soybeans and Corn prices initially gained.

The USDA reported 64% of corn to be in good and excellent condition, static from last week, but down 7 percentage points from this time last year. South Dakota (26% Poor & Very Poor) and North Dakota (27% Poor & Very Poor) along with Minnesota (15% Poor and Very Poor) are the states which present some of the highest risks in terms of crop conditions for corn.

Soybeans at 59% Good and Excellent lost one percentage point from last week as North Dakota continues to suffer from drought. Overall soy conditions are 12 percentage points behind the same point last year, an increasing challenge for average yields to be achieved. North and South Dakota are again the troublesome states in relation to Soybean crop conditions reporting 38% Poor and Very Poor and 29% Poor and Very Poor respectively.

As for crop progress, soybeans are in a relatively positive picture, with blooming 5 percentage points above the 5-year average and exactly in line with last season.

What does this mean?

Eyes will very much be on precipitation forecasts in the coming weeks, especially as corn goes through the important silking phase. Although the market had a slightly positive reaction to the crop progress report, it is important to remember we are not too far away from the 5-year average for progress and the forecast rainfall over the corn belt is providing greater yield confidence across the bulk of key US states.