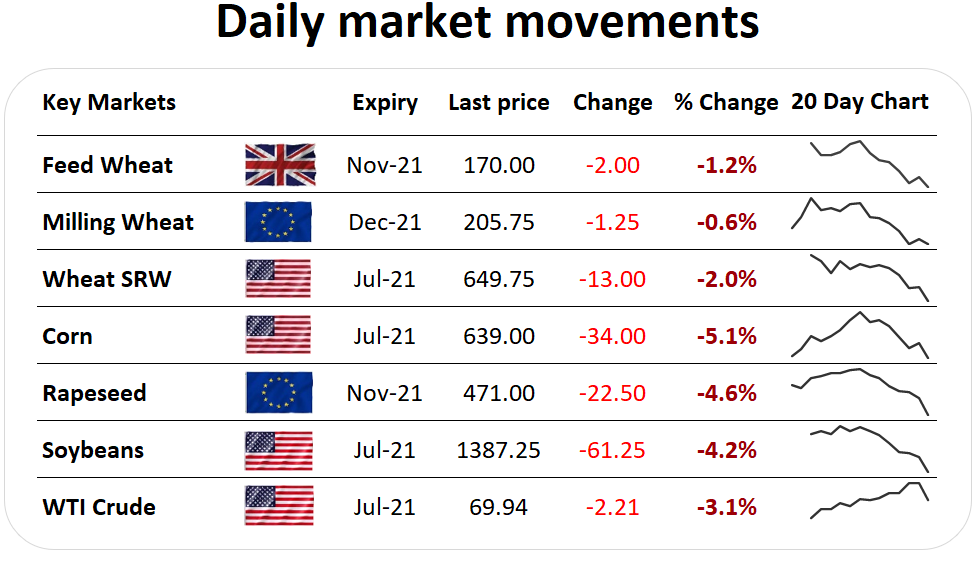 Across the board, markets have been in the red again today.

An improved rainfall outlook once more in the US has partly contributed toward the sell-off in global grain prices today, although conditions still remain unfavourable for large areas of the US with high temperatures.

Biofuel and energy markets have also been disrupted, also weighing on corn and soy.

Oilseed markets have also been under pressure again today, as the quick sell-off in Chicago soy-oil continues to pressure the oilseed complex. A leading factor in the fall in soy oil comes from unconfirmed and anonymous reports from Bloomberg, that instead of increasing the requirement for biofuel blending in the US, the Biden administration will take a more cautious approach. Read the full article here.

What does this mean?

There has been speculation that the Biden administration would increase blending mandates and with it, supporting US corn and soy oil, important energy crops for ethanol and biodiesel.

A combination of improved weather outlooks in the US, possible declining biofuel usage, and a broad sell-off in agricultural markets as harvest confidence increases have all contributed toward a falling market over the course of this week.

Watch out for fund positions next week, especially for corn and soybeans, alongside crop conditions scores and importantly, if the forecast rainfall actually becomes reality.