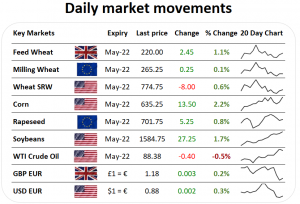 This week will see the February USDA WASDE, which will make interesting reading, look out for changes to South American production estimates for both corn and soy. Chinese corn demand and US exports will also be key watch point, as will US soybean exports which have continued at a strong pace.
Starting the week, and a quick look at Managed Money fund positions highlights the still bullish attitude toward corn and soy, while positions in wheat have turned increasingly bearish.  
Corn
Managed Money continued their bullish approach to corn, again increasing the number of long positions held to the largest number held since April. Short positions held are still very minimal.
Wheat
While Managed Money was increasingly bullish to corn, as Managed Money became increasingly bearish toward wheat, holding the largest number of short positions since last April.
Soy
Managed Money further increased their bullish position in soybeans, taking the largest number of bullish positions held since last May.