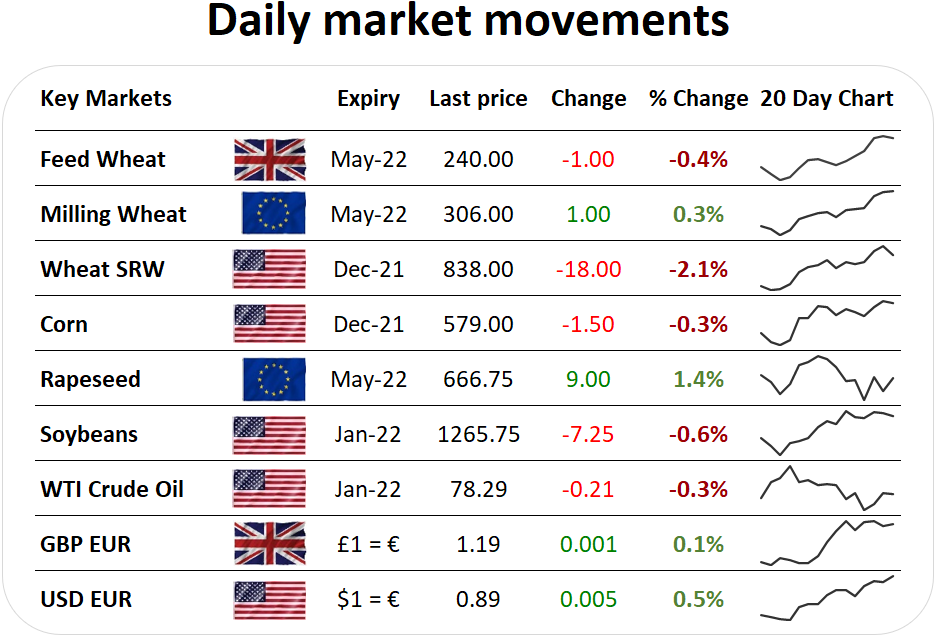 Today markets have had a somewhat mixed day ahead of the US Thanksgiving holiday, having pushed to even higher premiums over corn, wheat has been under pressure today, while small gains in soy oil contribute to upward moves in oilseed rape.

Today the EIA released their weekly ethanol production figures, once again the numbers were strong. Ethanol production rose from 1,060K barrels the week prior to 1,079k barrels the week ending November 19th. This marks the 7th consecutive week of 1 million+ barrels and the highest production since the week ending Feb 28th 2020. Estimations for the marketing year of corn used as ethanol are now over 5% higher year on year.

Favourable weather conditions in Argentina have enabled farmers to get on with soybean planting, over the course of the week planting has advanced by almost 10 percentage points, according to the Buenos Aires grain exchange they are now 29%, the average for this time of year is 31.5%.

Heavy rains have continued to make headlines for the Australian wheat harvest, with heavy rain impacting Eastern Australia.