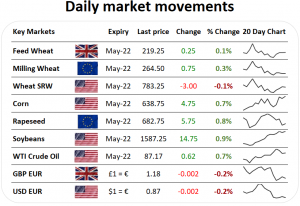 In the latest February USDA WASDE, on the face of it, not many significant or unsurprising changes were made. Wheat was the more bullish aspect of the February WASDE with additional trims to stock estimates.
Wheat
Overall, there were very little changes made to global wheat supply and demand estimates. US stocks increased marginally, as did stocks in Argentina due to an increase in export estimates. Canadian stocks were also downgraded due to increased domestic usage.
Corn
On the whole, the February WASDE wasn't very inspiring, with only minimal changes, mostly expected.
Chinese corn demand was maintained at 26Mt, while US supply and demand estimates were left unchanged.
Corn production in Argentina was also maintained at 54Mt, while Brazilian corn estimates were downgraded by just 1Mt to 114Mt.
Soy
US soybean ending stocks were reduced, down to 8.84Mt, down from 9.51Mt in January.
Soybean production in Brazil was downgraded to 134Mt, down from 139Mt in January. In Argentina, production was also downgraded to 45Mt, down from 46.5Mt.
The fall in South American production likely linked to projections for a decrease in Chinese soybean imports, down 3Mt to 97Mt.
Other Data
Statistics Canada last night released December stocks data, with wheat and rapeseed both exceedingly tight. Canola stocks at just 7.56Mt were down significantly from the 13.28Mt in December 2020. Wheat stocks were also significantly lower year on year at 15.56Mt down almost 10Mt from the 25.1Mt at the end of 2020.