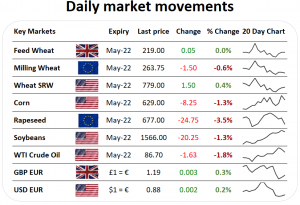 While we await the USDA WASDE tomorrow, knocking markets today, especially oilseeds, has been a pause in the bullish upward trend for crude oil.
As the US and Iran have resumed talks surrounding the nuclear deal, markets are anticipating a relaxing of sanctions on Iran and a resumption of oil exports out of Iran onto international markets.
This move lower represents only one day of sell off in what has been a sustained bullish trend, but certainly one to watch this week.
With crude oil lower, soy oil has also been under pressure, also halting the bullish upward trend for soy, and exerting pressure on corn. Rapeseed too lost ground today as vegetable oil came under pressure.