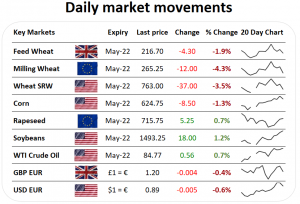 Corn support – Bullish Fund Momentum
CFTC weekly data highlighted the continued bullish attitude toward both grains and oilseeds.
While Managed Money fund data for last week's positions was positive toward wheat, markets have been under pressure today in the EU, US and UK.
Corn
Managed Money's bullish long positions held in Chicago corn reached the largest number held since April of last year. While there remain plenty of bullish supportive factors for corn markets, Managed Money also maintained a minimal number of short contracts.
Wheat
The escalating tensions and headlines surrounding Ukraine contributed toward a reduction in bearish short positions held by Managed Money funds last week while at the same time increasing the number of bullish long positions to the largest number held since the 14th Dec.
Oilseeds
Soybeans and the oilseed complex also gained support last week with Managed Money further adding to the number of long contracts held, now the largest number held since June as markets continue to push higher.