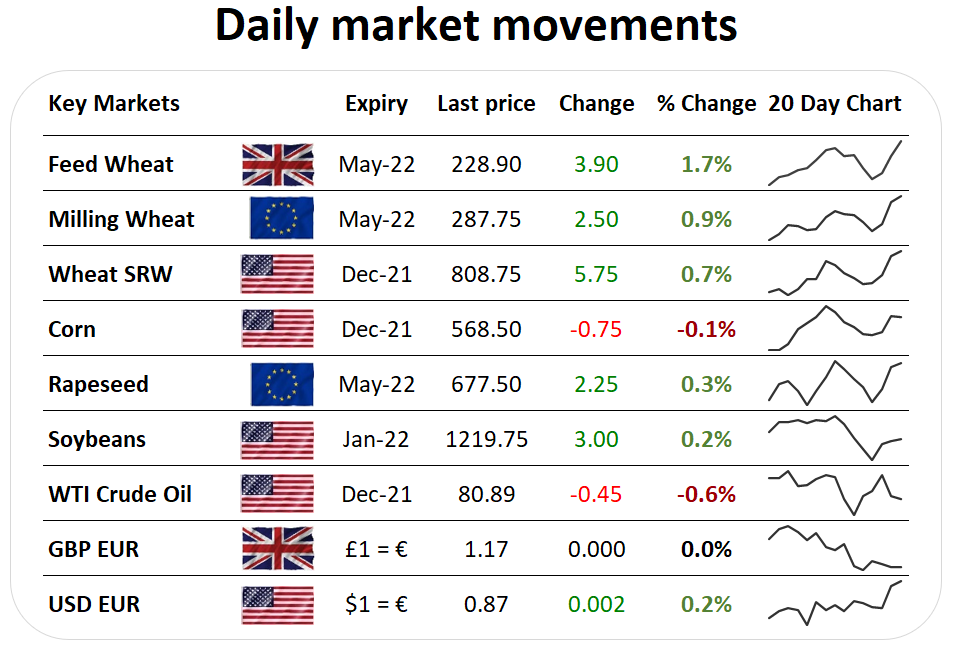 With the US on holiday for Veterans Day, the normal US weekly Export data will be released tomorrow.

US corn started the day in a bullish move pushing up to c$579/bsh, before unwinding nearly all the gains in an unexpected reverse. Tomorrow's trading and sentiment at the end of the week will be key for grain markets following the sharp reversal.

With corn markets having been supported, wheat has been able to follow corn up. Chicago Dec wheat peaked at c$824.75/bsh, while Dec-22 Paris milling wheat briefly pushed above €300/t and May UK feed wheat briefly touched £230/t.

However, like with corn, wheat was unable to sustain the gains, and as corn pulled back wheat also gave up a large proportion of the gains.

In the UK, and September trade data has been released. UK wheat imports remained strong in September, with 154.9Kt of imports, 69.1Kt of corn imports and 145.8Kt of rapeseed. Wheat exports of 61.7Kt have been surprisingly high, while barley exports of 101.7Kt have been encouraging, with a total of 266.7Kt exported so far, just 11.9kt shy of last season's exports by this stage.