In the midst of a spring weather market, market attention is fully focused on the prospects for spring crops.
Looking to Canada, and this week has seen the release of the Statistics Canada March planting estimates. Overall, there is a trend towards oilseeds and away from grains.
Canola
Overall, Canadian canola planting is being estimated to increase by 3.6%, undoing the previous year's reduction in area.
Amid the very elevated Canadian canola market, this is perhaps of little surprise to markets. With Canola in Canada being spring planted, it is entirely logical that due to highly elevated prices, there would be a reaction from growers, increasing the area. Longer term, high prices generally lead to larger areas, leading to lower prices, and should spring and summer be kind for production and canola and OSR markets then prices could be pressured as from these well supported levels.
However, large areas of Canada have been abnormally dry, and although precipitation is now forecast, planting is likely to be delayed, and with later flowering, yields can suffer. Even with a larger Canadian area, the increase is modest, and markets will need greater confidence for harvest 21 before new crop markets ease substantially.
Soybeans
Although a relatively minor crop in Canada, the strong global oilseed and soybean market is incentivising an expansion in planted area, estimated to be up 5.5% year on year, and like with canola, back to 2019 planted area levels.
On it's own, the relatively minor Canadian crop is inconsequential compared to the US, but is broadly reflective of the same price incentivised area increase in the US, with expectations for an increased area and larger supply in 2021/22.
Wheat
While the oilseed planted area has increased, the crop loosing out in spring planting in Canada has been wheat. While a minor crop, the winter wheat area is estimated to have contracted by 11%. Spring wheat however, is a major crop in Canada, and for the UK, important from a bread wheat perspective, with over 0.3MT imported annually.
With the planted area being estimated to be down nearly 9% year on year, combined with the unfavourable planting conditions, above average yields will be needed this season or Canadian bread wheat supply risks becoming tight.
However, the wheat markets have rallied significantly over the last couple of weeks, and planting is yet to commence. March planting estimates remain open to revisions, and in our opinion, the wheat area will be larger than currently estimated due to the increased price incentive.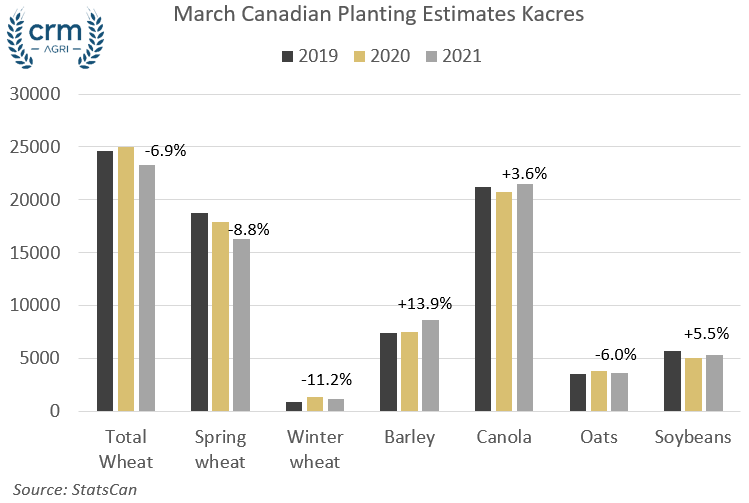 Weather
Spring so far has been characterised by a lack of precipitation in Canada, but also in the spring wheat states of the US, leading to planting and germination fears as progress is delayed.
However, with rainfall forecast, confidence is growing, but Canada still remains cool. Warmer and wet spring weather is now needed for Canada, and the spring wheat weather market is by no means over. Looking later into the season, and with a likely delayed development to spring crops, the summer weather will be of greater significance.
Both Canola, and wheat production levels in Canada and the US remains far from certain, and volatility, driven by altering views on supply will likely linger on for longer this season.