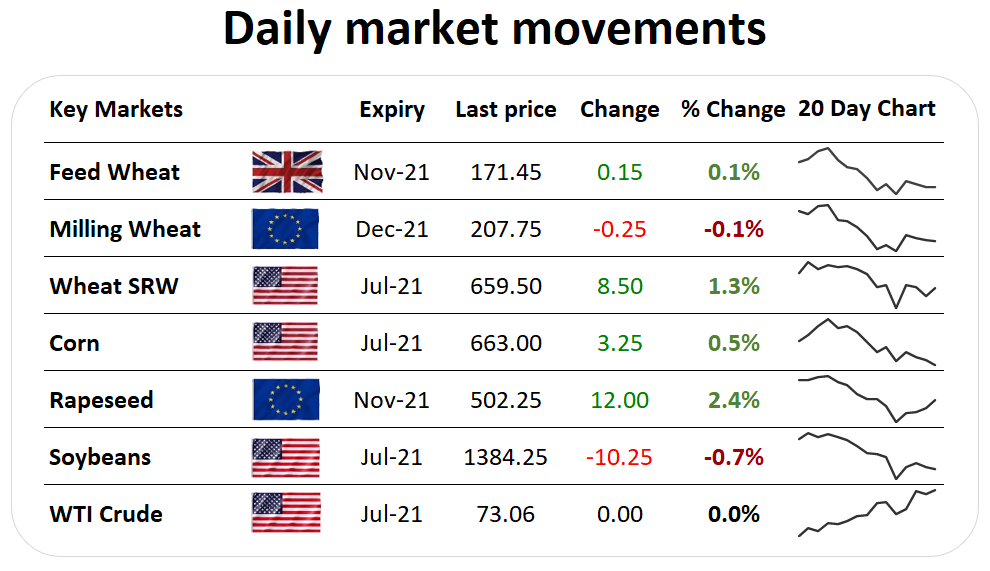 Oilseed markets have recorded a mixed day today, with crude oil and vegetable oil trading higher while greater confidence in long-term rainfall for the US has pressured soybeans and meal.

Announced export sales of 330Kt of soybeans for China next season failed to push Chicago soybean markets higher as the weather remains the key driver. Across the majority of the US soybean growing regions in the US, sufficient to excessive rainfall is now forecast, pressuring new crop markets.

A point to watch will be next week as the USDA release their updated area forecasts.

While soybeans and meal have been under pressure today, crude oil, soybean oil and palm have all traded higher. The recovery in oilseed markets let Nov-21 Paris rapeseed futures to push back above the €500/t market again today.

What does this mean?
 
While there remain many weeks to go until the US soybean harvest is even close, the improved rainfall outlook is reducing some of the risks. However, until the rain actually lands, uncertainty will prevail and markets price in the weather risk premium.